Welcome to the Home of Yeovil Lifesaving Club!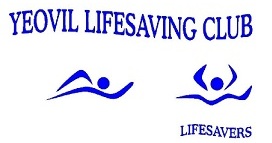 Club sessions are Friday evenings between 7pm & 8pm at Goldenstones Pool, Yeovil, Somerset.
Yeovil Lifesaving Club provides training and education in lifesaving, lifeguarding, water safety and life support skills. The club is affiliated to the Somerset Branch of the Royal Life Saving Society.
We run a number of ongoing training programmes including: Rookie Lifeguard, Lifesaving 1,2 & 3, Life Support and Life Support 3, Survive & Save, Save a Baby's Life, Community Life Support, Training Qualifications. For more information on these awards click to go to the Awards page and to navigate the Club pages by clicking on the links at the bottom of each page.
Learn how to make a difference like Sam – local-hero-honoured
Club Links: How to Join | Contact Us | Fees and Payments | Club Documents/Policies